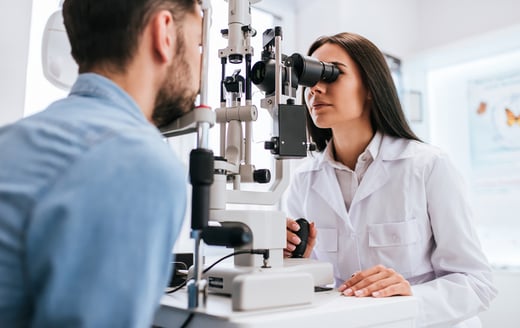 The eye care industry is in good shape, partly due to the fact that as people age they are more likely to need vision correction. In fact, 86% of Americans over age 45 rely on it. What's more, independent optometrists are experiencing an annual growth rate of 2.8%, while ophthalmologists are enjoying a 4-5% rate of growth. Combined with opticians, eye care professionals (ECPs) represent a $40 billion market, with steady growth being predicted throughout the next decade.
Despite large market and growth potential, individual practices still face competition from local providers and online eyeglasses companies. Forty-five percent of ECPs say that online competition is their biggest business challenge, according to Eyecare Business. To better position their practice in 2019, ECPs can look to 2018's trends and leverage strategies that help them attract more patients and sell more merchandise.
2018 Trends for Eye Care Professionals (ECPs)
There are a few current trends that impact ECPs, and they can be used to guide your strategy in the new year. One emerging trend is the shift in patient base. While older consumers (55 and older) account for most of eye care industry spending (39%), Millennials now represent 25% of an ECP's patient base. In fact, the rate of myopia (or nearsightedness) has nearly doubled over the last generation and roughly half of young adults in the US are nearsighted.
It's also important to note which products are the most popular among eye care patients. The "hot" products of 2018 are blue light blocking glasses, polarized sunwear, premium PALs, high-end frames, and similar products.
Another important trend has to do with marketing: 73% of eye care professionals are using social media to help build business, according to a recent survey.
Positioning Your Eye Care Practice in 2019
Increasing the success of your practice in 2019 will require following some good marketing and business practices. Follow these tips to help with this goal:
Stay Current on Industry Trends
Understanding current trends can help to ensure your practice properly serves the needs of today's eye care patients. Whether it's the most popular frame style, changes in patient demographics or a shift to social media marketing, these trends will help you to effectively reach and market to potential patients.
Manage Online Reviews
Positive reviews play an important role in driving new business, as 72% of consumers will take action only after reading one. Encourage satisfied patients to leave reviews on your website, social media channels and other online review sites. Meanwhile, address complaints and bad reviews in a positive and professional way. Doing so helps you maintain a good reputation, thus attracting more patients.
Use Digital Marketing
Your ideal patient is likely searching online for information about local eye care practices. Take advantage of this by making sure that you leverage digital marketing tools, like social media, digital advertising, email and more. These tactics can be used to build awareness, foster engagement or drive specific actions, like booking an appointment or purchasing a product.
Provide Helpful Content
Your patients may have questions and concerns about routine practices, products, eye care and other related topics. Create content that answers those questions and addresses their concerns. You may write a blog post discussing the signs and symptoms of common vision issues or create a video showing what happens during an eye exam. When you provide prospective patients with answers, they're more likely to schedule an appointment at your practice.
Be Consistent
Inconsistency in your brand's logo, messaging, visuals and even colors can lead to confusion for potential patients. Keep your branding consistent across all of your advertising channels to avoid this problem. Doing so will make your business seem more reliable and trustworthy, which are critical factors for ECPs.
As you prepare to position and market your eye care practice in 2019, keep these trends and best practices in mind. The current trends - like a changing patient base, the use of social media and popular products - can guide your marketing strategy. And applying these tips can help you attract new patients and drive business in the new year and beyond.