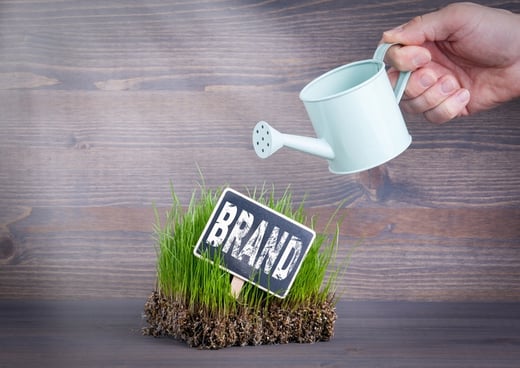 Your brand requires constant attention. That's because it's far more than your logo, tagline, or anything tangible — your brand is the sum of every interaction a consumer has with your company. It's a living, changing thing you can't entirely control, and it can mean something different from one customer to the next.
Nevertheless, there are areas of your brand you can assess to ensure you're on track to dominating mental real estate, or making changes in order to get there:
Your marketing

Your customers' perspective

The perceived value of your offering

Your customer relationships
Keep reading for a quick look at these four areas of branding, or download our complete checklist to dig deeper into your brand, understand what's working, and uncover where you need to go to work.
1. Your Marketing
Your marketing encompasses your brand identity and all the ways you express it. This means everything from your annual marketing plan that guides your year, to your website and tangible brand collateral, to the marketing professional or team that makes it all come to life.
When you need to go to work:
Your ad copy relies on advertising cliches or sounds a lot like your competitors.

Your website is not mobile-friendly, hasn't been updated recently, or doesn't exist yet.

Your social media posts are all about you or inconsistent.

Your brochures and signage weren't professionally designed, haven't been updated in years, or don't feel cohesive.
2. Your Customers' Perspective
You have an intimate view of your brand, but your customers might see things differently. The collective customer experience is impacted by many factors, including how you solve your the customers' problems, meet their expectations, or leave them disappointed.
When you need to go to work:
Your store hours are M-F 9 to 5, the same hours many people are at work.

Your parking lot is poorly lit, filled with potholes, and has limited spots.

It's difficult for customers to find what they're looking for.

Employees are unfriendly, unkempt, or lack knowledge to answer customer questions.
3. The Perceived Value of What You're Offering
You put a price on your products or services, but "value" is up to your customers to decide. When it comes to your brand, your perceived value includes the benefit that the customer believes they receive from your product or service. It's important to focus not on what your product or service does, but what it does for your customer.
When you need to go to work:
Your advertising talks about you, not them.

You rely heavily on coupons or discounts to bring customers in.

Your pricing is not competitive or payment options are limited.

Your return or exchange policy is restrictive or difficult to understand.
4. Your Customer Relationships
Simply put, a happy customer is likely to be a returning customer and can also be a powerful brand advocate. It requires a personal touch to build relationships between your customers and your brand that extend beyond transactions.
When you need to go to work:
You don't always follow through on customer commitments.

Customer complaints are not handled in a timely manner.

Service or product quality is inconsistent.

You don't have a system in place to get to know your customers.
Assess Your Brand Health
For more on building a great brand, download our comprehensive checklist that walks through each of these core brand building areas above. It's designed to be a "scorecard" that's easy to complete and gives you a high-level look at how you're doing and where you can improve. And to talk with the branding experts at Zimmer Radio Inc. about building your brand, contact us.