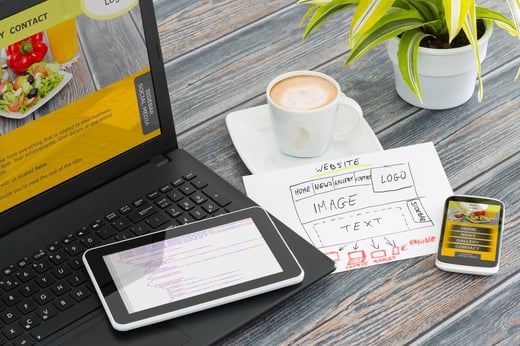 At this point, a company having a website is usually a given, but it can be easy to forget that a website is critical to your business' success. That's because your site is an extremely valuable tool in establishing your business' web presence, which in turn helps to drive more business through building credibility and connecting with customers. There are three major areas of consideration to ensure your website's success: keeping it professional, keeping it optimized, and regularly updating it. In today's post, we'll take a brief look at how people are using branded sites now, then provide an overview of each area.
Modern Website Use
Search is incredibly important, especially local search. Nearly a third of mobile searches are location based (30%), and half of mobile local searches will lead to a customer to visit a store within one day. About 28% of all local searches will also result in a purchase, but 78% of mobile local searches will result in offline purchases. What's more, more than half of smartphone users (51%) have discovered new brands and products while conducting searches from their smartphones, and mobile commerce actually makes up 30% of all US e-commerce. In fact, mobile devices represent 2 out of every 3 minutes spent online.
In terms of content expectations, your contact information is critical — 51% of people think that thorough contact information is the most important element missing from many company websites, and 64% want to see that information on the homepage. In fact, 44% of consumers will leave a website if there's no contact information, especially phone number. Some 86% of website visitors want to see information on a brand's products and services on the homepage, and another 47% will head directly to product and service pages before viewing any other section of a brand's site.
Additionally, companies that blog 11 or more times per month see four times as many conversions as those who only blog about 5 times per month. However, four times as many customers would rather watch a video about a product or service than would prefer to read about it, and 53% of smartphone users feel more favorably toward brands that offer instructional videos on their mobile site or app.
Why the Site Needs to Be Professional
Your business website is no different than a brick-and-mortar storefront or an official office — when customers encounter your brand, you want to make a professional impression and make it obvious that your brand is worth engaging with. Your site is the digital face of your business, and like other critical digital channels (i.e., social media), it's also your company's voice. It ought to represent who your business is, express your brand message, and accurately represent your services and products.
This is especially important for two factors: credibility and branding. Your website is an integral way to position your brand as a thought leader, and it can become the perfect vehicle for sharing testimonials. We mentioned above how important contact information is, and that is a major part of credibility — your site provides the means for customers to reach out to you with comments, questions, concerns, and problems.
The branding potential should be obvious. The site should utilize your logo and feature your logo colors, and it's a good platform to boost your marketing messages. More than half of the users to visit a brand homepage (52%) want to see "about us" information, which further gives you the platform to show how you share their values. You can also build landing pages as touchpoints for various marketing efforts.
Why You Need to Optimize
Consumers have a lot of expectations about how a brand website ought to work, and optimization is how you meet most of those needs while ensuring your site is the one they're likely to navigate to organically. As a basic example, consider the shift to mobile and the fact that many consumers are increasingly mobile-only. (As of 2016, 13% of all adults only navigate the internet via a mobile device.) If you haven't at least made your website mobile friendly, two things happen: Google and other search engines dock your ranking in mobile searches, and your mobile bounce rate rises.
There are a host of other factors that will determine your search engine rankings, which in turn heavily affects your ability to reach customers — the first position in Google organic search results sees a CTR of more than 34%. In conjunction with claiming your online listings, if you including contact information on your site and leverage SEO for local key terms, your ranking will probably lift in the appropriate "near me" searches. Your SEO, in general, will rank the content of your website (including product listings) in results pages.
Speed is another area of importance, and not just because it's a ranking factor for search engines. How long it takes any given page of your website to load (especially on mobile devices) influences customer behavior: 39% of people will stop engaging with a website just because the images take too long to load in, 47% of consumers expect your site to load in less than 2 seconds, and 40% will leave your site if it takes longer than 3 seconds.
Why You Need to Update
Updating your website regularly is the only way to ensure you regularly meet customer expectations. If your site isn't mobile-first, you need to update it. If you aren't up to date on current SEO practices, you need to update important pages on your site. The content of your site should always be easy to keep up—to-date: if your contact information is wrong, you'll lose customers, and if you aren't regularly blogging, you're probably missing out on a hefty number of conversions. The harder it is for you or your team to do this, the less likely it is to be done in a timely matter.
Of course, content and realigning your optimization aren't the only areas that need to stay updated — 38% of people will stop engaging with a website just because it's dated or unattractive. That number will climb if your site is hard to navigate, and if your site is an e-commerce site, a complicated checkout process is the most likely reason customers are abandoning their carts. The design elements you use also matter a great deal. For instance a mere 1% of website visitors will even click on a slider image, and 89% of those only ever click on the first image. If you're depending on that slider to influence customers in certain areas, none of that message is being seen.
And on the topic of messages, your calls-to-action are just as critical a feature to be updated. Your business has grown and evolved, and you understand your customers better now than you have before. You shouldn't be trying to reach out to them with the same CTAs you used a few years ago or more. The CTAs featured throughout your site need to be aligned to your current business goals, especially with regard to any major marketing efforts. For instance, if your store is running a major sale, then customers expect to see information about that along with CTAs to help them take advantage of it. Worse, if you've debuted a new product but aren't using your website CTAs to promote it, you'll hurt both your credibility and conversions. Furthermore, CTAs need to stay fresh in order to stay noticed.
It should be clear now why an optimized, professional, and regularly updated website is so important for branding, consumer perception, and reaching and engaging customers. When a website is critical to your business' success, it's vital to ensure that all of these things are aligned with the vision you have for your company.