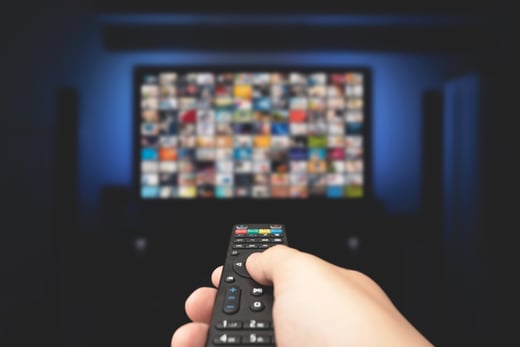 OTT, or "over-the-top television," services allow viewers to stream content directly to their devices. The first streaming devices went "over-the-top" of traditional cable devices, earning the nickname OTT in the process. This service allows viewers to be pickier about what they watch, when they watch it, and how they want to view their content. Platforms like Netflix, Amazon Prime, Hulu, Apple TV+, HBO Max, Disney+ and Peacock have become increasingly popular. Twenty-eight percent of Americans are OTT-only viewers, and the average American household subscribes to at least three streaming platforms.
Why OTT is Becoming More Popular Than TV Advertising
OTT advertising offers several benefits. An increasing number of Americans are cutting the cord or, in some cases, never had the cord to begin with. Viewers often prefer streaming services to cable, and it's easy to see why. Cable prices have risen substantially while streaming services offer a more affordable way for users to access precisely what they want.
More people are logged in online, choosing to use the internet to stream content. In 2019, over half of U.S. homes with broadband services subscribed to two or more streaming services.
In addition, marketers can take advantage of OTT to retarget ads. You can use the OTT platform to show ads to viewers who may have already connected with your business, or to retarget viewers who saw your ad on their streaming platform. Since customers often need multiple touchpoints before they're ready to make a purchase, this can help increase your odds of successfully converting prospects into customers.
Why You Should Make the Switch
Still on the fence about OTT advertising? Consider these important reasons as to why you should make the switch. First, you can reach more people. An increasing number of viewers are choosing not to subscribe to traditional TV, and opting for OTT services instead. OTT ads have the same potential to reach a vast number of consumers and are often less expensive than traditional television ads. Many businesses also find that they see better results from OTT than they do from regular TV ads. OTT ad spend is predicted to grow by 31% or $5 billion by the end of 2020.
One important benefit of OTT ads is the ability to place a CTA within the ad to take more direct action. Many viewers are streaming from a variety of devices, including their phones, tablets, and laptops. Even those with connected smart TVs can use them to take action immediately after they view an ad. This can lead to a much faster overall response to your ads and prevent users from forgetting to take action later.
OTT ads also allow you to reach people anywhere, at any time, in any place. You don't have to worry that you will miss a vital window or overpay for expensive, premium ad space. Instead, you can connect with viewers where they are at any time.
Benefits You Can See From OTT Advertising
OTT ad spend increased by more than 330% in 2019 as a growing number of advertisers have come to recognize its value. As a result, more businesses are seeing success through OTT advertising. You can choose precisely the content you want to position your brand alongside, allowing you to target the exact audience that you want to view your content.
For example, if you offer sports merchandise, you can run your ads alongside sports-related content. If you provide fan gear, you can target the types of shows that those fans are likely to watch. You can also specifically target shows that your target demographic watches, ultimately allowing you to see greater success. Consumer trends show that 40% of users have seen an OTT ad and paused their content to make a purchase.
If you're looking for a marketing strategy that will allow you to expand your reach, improve brand awareness, and enhance your overall success, then you need OTT. By focusing on OTT services rather than traditional TV ads, you will find that you can reach a more significant percentage of your target audience. We can help you get started with marketing via OTT today.
Zimmer Marketing is a full service marketing company Joplin MO providing SEO, Website Development, SEM campaigns, OTT, Pre-Roll video services, video production, social media management, and marketing, and the most listened to radio stations in the 4-State area with 300,000 listeners every month.