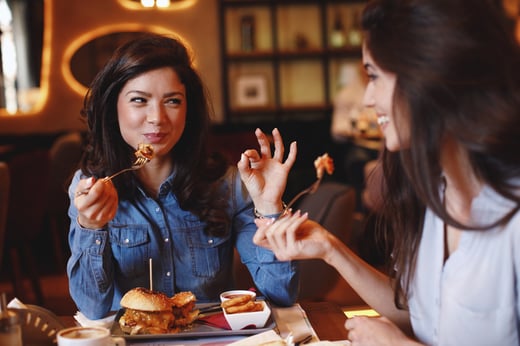 Competition in the restaurant industry can be quite intense. That's why finding ways to stand out from the crowd and build continual awareness of your restaurant is essential. Local radio can help.
Radio reaches 89 percent of general market diners for casual and quick service restaurants and 90 percent of upscale restaurant diners. In one particular study, traffic to quick service restaurants saw a 23 percent lift after a radio campaign ran. Another study found that radio was responsible for a 3 percent lift in restaurant search activity and new users. Radio is clearly effective at reaching potential restaurant customers. Here are 10 ways to leverage it effectively.
1. Promote New Menu Items
When you add new food or drink items to your menu, either as permanent or seasonal additions, your regular and potential customers need to know. With its broad reach, radio is an excellent platform to spread the word.
2. Leverage Endorsements
Radio personalities are local influencers, and they have established a large amount of trust with their listeners. On-air and social media endorsements are an effective way to promote your restaurant, like the Downstream Casino Resort showcased in this video starring local radio personalities.
3. Create a Sweepstakes or Contest
Build more customers easily by creating a digital promotion, like a sweepstakes, to attract new customers. Partner with your local radio personalities to drive people to your social media pages or to your restaurant to participate in the contest. Digital promotions and radio work well together, as they provide the opportunity to engage and interact online and on the air with thousands of listeners.
4. Promote a Special or Limited-Time Discount
The high reach and fast return on investment of radio advertising makes it an excellent platform to use for a limited time offer. On average, you can expect to get $3 for every $1 spent for a quick service restaurant, so use that momentum to create a buzz about your restaurant and the special discount you are offering.
5. Run Awareness Ads
Not all radio ads are aimed at directly driving traffic to your restaurant. Some are aimed at building awareness and boosting recall and memorability of your brand so customers will remember it later when they want to dine out. Because of the large reach and excellent influence of radio ads, they are exceptional brand awareness tools.
6. Host an Event
You can partner with local radio stations to host an event at your restaurant along with their radio personalities. People will come to your restaurant for the chance to meet their favorite DJ or personality and participate in the event, and you will see an increase in traffic as a result.
7. Create a Jingle
Jingles are a unique way to set your restaurant apart from the competition. They're also "earworms" that tend to get stuck in people's heads, and that's why jingles are quite effective for businesses. These catchy songs are instantly recognizable, inspire memory recall, and are quite cost effective. Jingles can help amplify your radio advertising, allowing you to stretch your marketing dollars further.
8. Try a Live Broadcast
Are you opening a new location or hosting a special event at your restaurant? Consider using a live radio broadcast to bring the party to your business. With the help of on-air personalities, you can drive people to your restaurant and boost your advertising results. You can even combine this with a contest or offer to get listeners excited to attend your event.
9. Share Customer Testimonials
Everyone wants their moment of fame, and your satisfied customers are no exception. Have them share a testimonial through an on-air commercial, and build brand trust in your restaurant through the power of peer endorsement.
10. Find Quality Employees
Top talent in your restaurant will elevate your customer experiences, and radio gives you a platform to easily reach the most qualified candidates. Since radio reaches a large number of people on their way to and from work, you can also reach out to passive job seekers, who are considered the most desirable job candidates.
Local radio is a highly valuable platform for restaurants to use in the effort to reach new and existing customers. Learn more about using radio in your marketing efforts, and reach out to Zimmer to see how our local stations can help you drive traffic and boost revenue for your restaurant.