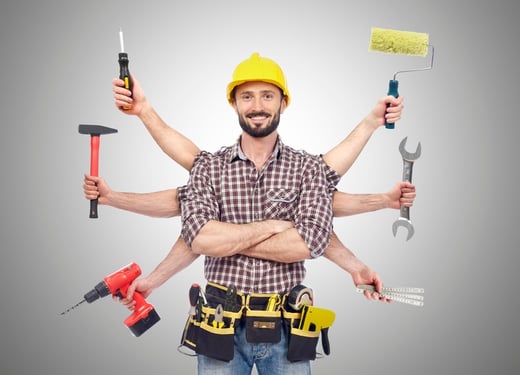 There's a good chance that your potential clients have been inspired by Fixer Upper, The Property Brothers, or similar home remodeling shows. They encourage homeowners to step up their "home-improvement game" by taking on small and large renovation projects, and giving them the inspiration they need to tackle their own. But with so many options for home improvement businesses in the Four States Area, how will they choose which is the best partner for their project?
Homeowners are more likely to choose a brand they can trust. That's where consistent marketing comes in — it will help them recognize your brand, develop trust, and ultimately, keep you top of mind for their next project. Below are three reasons why consistency is an important element in your home improvement marketing.
Brand Consistency Builds Trust
Branding is the first — and possibly the most important — step in establishing your business apart from your competitors. It helps your current and prospective customers learn about your company, what you value, and how you engage with customers.
Strong, consistent branding builds credibility and trust among customers, in turn increasing the chances they will do business with you. Therefore, the vision, values, key messages, and visuals (including your logo) need to be the same whether your audience finds you on Facebook, your website, on air, or anywhere else they may want to engage with you. If your brand is presented differently in each channel, you will fail to meet customers' expectations and risk damaging their trust in your business.
Consistent Advertising Spurs Customer Action
Consistency doesn't just apply to your company branding. It's also critical in understanding what you're trying to communicate through your advertising. Your audience needs to be presented with a clear message about not only what they can expect from you, but what's expected from them.
Remember, frequency is what drives a message home and leads your audience to take action. But frequency can't work if you aren't consistent with what you're asking them to do. This isn't to say you have to stop using multiple channels; in fact, we recommend using various media to market your home improvement business. The key is to ensure that what you communicate through each channel is consistent across the board.
This is even more important when you advertise during the off season. If you want your audience to remember you through the off season and keep you top of mind when the season breaks, your brand and messaging needs to be consistent year round.
Consistent Quality Service Drives Customer Loyalty
As you may expect, consistency is about much more than your marketing. You need to provide dependability, quality, and safety time and time again. This is paramount for people who are embarking on a home improvement project — they're letting you into their private spaces, and they want to know they've trusted the right partner to help them achieve their goals. This will not only retain customers who loved their experience with your company. Providing quality service also drives word of mouth and referrals.
It's true that consistency is vital for any brand that hopes to thrive in business. However, it's imperative for home improvement businesses to create a recognizable brand and outstanding experience that stands head and shoulders above their competitors - even in the off season. Based on the information above, consider some ways you can leverage consistency to enhance your home improvement marketing.