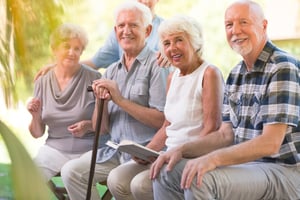 Our senior population is growing rapidly. The U.S. Census Bureau projects that it will reach 56 million by 2020, and balloon to 74 million seniors by 2030. But even though senior living demand is growing, nursing home occupancies fell from nearly 86% to less than 82% from 2012 to 2017, and that number continues to drop.
As financial pressures mount and competition increases from alternative services such as home health, now is not the time for skilled nursing facilities to cut back on marketing. Instead, it's time to demonstrate the quality-driven care you provide, tap into motivators, and use your marketing to get a leg up. Here are a few tips to bear in mind.
You Have More Than One Audience, So Target Your Messages.
With an influx of both younger seniors and older, frailer seniors, your facility will likely need to adjust your services and programs to meet a variety of needs. As such, your marketing will need to address how you care for individuals with complex needs, and still resonate with young, technologically savvy seniors.
At the same time, marketing must not only speak to future residents who would benefit from living at your facility, but also their family members. It's important to keep your specific audience in mind when developing your campaigns — there's likely some overlap in message, but you can hone in on what drives them and develop a more effective, targeted message. Many residents will want to keep a sense of autonomy and control, while their children are looking for relief and peace of mind that their loved ones are in good hands.
Stories Are More Impactful Than Bulleted Lists.
Your website, advertising, and other marketing content should be informational, but remember that decisions around senior living are often highly emotional. To win over prospective residents and their families, you'll need more than generic web copy and benefits bullets.
There are countless opportunities to showcase your current residents, engaged staff, and quality care. Stuck for ideas?
Put together a monthly resident spotlight all about the individual, sharing how they spend their day, indulge in hobbies, and connect with others.

Collect narratives that speak to common experiences of new residents, like overcoming initial fears and anxieties when moving in, getting to know staff and new friends, and enjoying activities.

Let prospects learn about and connect with staff through bios and short video interviews.

Share "Did you know?" articles showcasing unique perks of resident life and your facility.

Provide updates on new programs, upcoming events and celebrations, latest care innovations, and more.
Bullets have their place, but rich stories told through photos and videos are much more compelling and serve as valuable marketing tools.
Your Staff Can Make Powerful Brand Ambassadors.
You know that a huge part of your brand experience is your staff. They are the friendly faces, helping hands, and passionate hearts that make it all possible. Integrating them into your marketing can offer many benefits — to your content marketing, brand perception, and team morale.
By putting a spotlight on your staff and the value they add to your organization — through blog posts, on-site bios, even in your print collateral and radio advertising — you're introducing prospective residents to your team and feeding your content pipeline, all while keeping your staff actively involved in your brand and showing that you truly appreciate them.
Authenticity is a Must.
Being authentic is important in any kind of marketing, but especially in such a people-centric industry as senior living. Moving loved ones into a skilled nursing facility can be stressful for many, and your marketing can help to remove that anxiety and replace it with peace.
Nothing is more convincing than an honest review, so make sure you're collecting and incorporating genuine testimonials across your website and marketing content. You can also show you care by providing thorough FAQs on your website, addressing common concerns of new residents and their families. When new leads come through your website, offer helpful (not selling) content and personalized emails that they'll be interested in opening.
Now is the time to step up your marketing game, but how can you do that when you're busy taking care of day to day operations? That's where we can help. The marketing professionals at Zimmer Radio Inc. can work with you to create a strategic plan and quality content that will reflect your brand differentiator, resonate with your audiences, and bring families to you. Let us focus on marketing, and you can focus on what matters most. Meet with us for a complimentary marketing consultation.