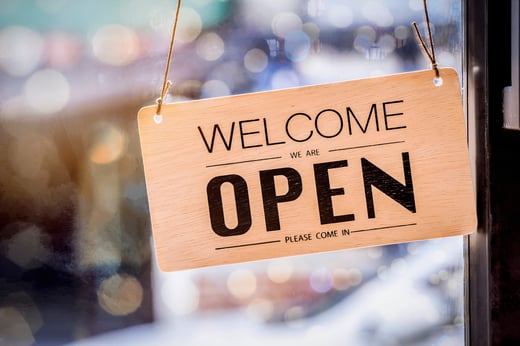 For brick-and-mortar businesses, local marketing is an effective way to increase brand awareness and reach new customers in your local community. It's also one of the best ways for local businesses to capture market share from larger competitors located in other areas. And it's gaining momentum among marketers, as 58% of senior marketers consider local marketing an essential factor for a business's profitability and growth.
What is Local Marketing?
The term "local marketing" encompasses all marketing tactics used to reach customers within a specific location. It can be done online, through local media and in-person, and marketers can use a combination of tactics to develop a strong local marketing strategy. The targeted area is usually in proximity to the business, and both large and small businesses can leverage local marketing to grow their customer base.
7 Local Marketing Tactics to Attract New Customers
1. Local radio
Radio is a powerful tactic to include in your local marketing toolkit. Nearly everyone (93% of adults) listens to AM/FM radio, and local radio stations can help you reach a large portion of your audience within a certain area. Zimmer Radio, for example, operates six stations in Joplin, MO, that reach the surrounding Four State area. Kissin 92.5 reaches more than 77,000 weekly listeners alone in the Joplin area.
Local businesses can use radio to achieve both short and long-term marketing goals. It's great for spreading the word about your business, helping you hit specific performance numbers, and even advertising your job opportunities. It's also an excellent medium for differentiating your brand from the competition.
2. Networking
Networking with other local businesses can open up previously untapped opportunities for growing your own customer base. For example, if you sell pool chemicals, it can be beneficial to meet and collaborate with a company that sells pools. When networking with other business owners in your community, be sure to have business cards on hand that include your company information, like the name, address, website and phone number.
3. Local SEO
This SEO tactic allows businesses to promote their products and services to local customers at the exact time they're looking for them online. This is crucial, as 46% of all searches on Google are seeking local information and 50% of consumers who do a local search on their smartphone visit a store within a day. For these reasons, local SEO is a must-have for local brick-and-mortar businesses.
4. Online reviews
Online reviews are a critical piece of your local marketing strategy. Positive reviews can boost your local search rankings - not just on Google and Bing, but also on sites like Yelp and Facebook. They also drive sales, as roughly 67% of consumers reported that their purchasing decisions were influenced by online reviews
5. Events
Hosting local events can be a great way to raise awareness and reach new customers in your area. You can organize a free workshop teaching a specific skill, or create a pop-up shop to showcase a sampling of your products. These events are an easy way to introduce yourself to the community, and thereby, attract new customers.
6. Referrals
Asking for referrals is a time-honored way of spreading the word around your community. As with online reviews, it's a good idea to ask satisfied customers to give referrals, as well as your friends and family.
7. Social media
Although social media has the ability to reach people all over the world, it's also effective at reaching local customers. Some platforms allow you to geo-target your posts to specific locations, and you can even tag your business in posts (which links to your business location). When using social media for local marketing, be sure to include "local" hashtags that will help customers find you while scrolling.
By using these local marketing tactics, you can greatly increase your visibility in the local community. If you're looking to target local customers, be sure to incorporate them into your marketing strategy. Even better, set up campaigns with the explicit goal of bringing in more local business. Done right, you can increase awareness, attract new customers and significantly grow your local business.