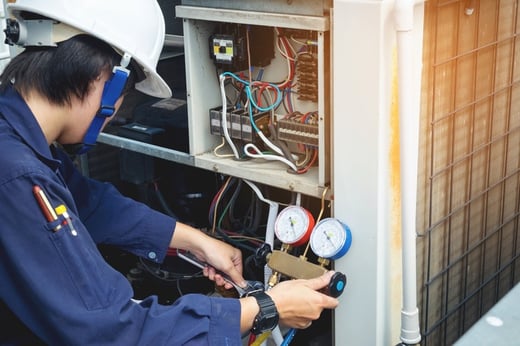 With warm weather right around the corner, HVAC businesses in Joplin are bracing for the busy season. Customer orders will pour in and pile up, testing the sanity of HVAC professionals until temperatures start to drop again. We've put together a few tips to help you stay top-of-mind with customers while staying on top of your workflow.
3 Tips for Staying Sane During the Busy Season
Warm weather means many homeowners and landlords want to engage in some sort of home improvement, which in turn means the companies that provide solutions are short on time despite a long list of orders. This is especially true when it comes to air conditioning; everyone wants to beat the heat, so HVAC companies will feel the crunch as temperatures rise. Here's how you can keep a clear head:
1. Let Your Website Do the Heavy Lifting.
Do customers ask you the same questions again and again? Do you find yourself explaining things more than once? If so, it's probably eating up a lot of your time. Adding an FAQ to your website can provide answers that are easy for customers to reference, whether they're in the consideration phase or they've forgotten what you've told them. Supplementing that with in-depth resources can show your expertise while simultaneously showing you care about their questions and concerns. Consider using video, either in place of answers in text or as a supplement. Video is engaging, and it can help clarify complex ideas.
2. Optimize Your Business Listings.
Claiming your online business listings, keeping them updated, and ensuring they're optimized is critical for helping qualified, educated consumers discover your brand. Listing platforms like Google My Business, Bing Places, and even Facebook for Business provide much more than just your business address and phone number. You can accurately list what you do, delineate the categories your business falls under, and bolster your overall SEO. What's more, they often feature other important information, like customer reviews, that can give you a leg up on managing your online reputation.
3. Outsource Your Marketing.
You only have a limited number of hours in the day, and invariably, being in the field and ensuring your customers get the quality of service they need will take priority over developing your marketing message and determining the best channels to advertise on. (And that's just one of the reasons you ought to be focused on something other than marketing!) Yet, if you want your business to continue to grow and thrive, you have to market it. Fortunately, there are experts that can handle your marketing for you, ensuring you have quality advertising in the right places while keeping your focus where it needs to be.
Bonus Tip: Think Ahead.
You may be preparing for your busiest season now, but the truth is, you should also be preparing to maintain your business during the off-season. It may seem like there's plenty of time to worry about it later, but developing and deploying a strategy for the off-season will ensure you have the right foundations to last through winter without losing ground to competitors. We took a closer look at that in a previous post, but here are the key takeaways to keep in mind now:
You need to maintain brand awareness throughout the off-season to stay top-of-mind whenever your customers might need you. Take advantage of the fact that you're top-of-mind now to establish a relationship.

Use both digital and traditional media like radio. Consumers don't distinguish between the two when it comes to brands, and you need to be in both places to fully engage them.

Take the time to build your social media following and email database. This gives you the means (and permission) to connect with them directly throughout the off-season.

Compile positive reviews and testimonials about your business, especially from online sources. These can be used in off-season collateral and marketing to remind consumers how beneficial your services are.

Develop a referral program that enables customers to bring in more business for you. You'll need to consider offers for customers that will encourage referrals, and you'll also need a system for tracking them in order to maintain your brand reputation.

Commit to content marketing. Consistently creating and providing educational content adds value to your brand, establishes your expertise, and generates trust. Be sure to offer a variety of media (e.g., video, case studies, blog posts).
Warm weather may push AC units to their limit and keep Joplin HVAC businesses on their toes, but that doesn't mean business owners need to put aside their sanity. Use our tips to stay focused and grow your HVAC business. And, remember to have a plan for your off-season so you don't lose ground once the dog days of summer are over.
Interested in outsourcing your marketing? Contact Zimmer Radio, Inc. today to find out how we can help you free up more time for orders by taking marketing tasks off your to-do list.