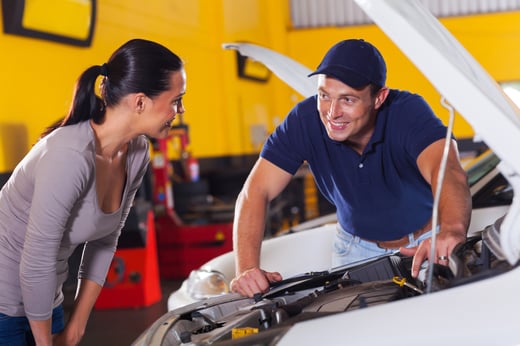 It's no secret that many auto shops have trouble attracting women to their business. And although they also need car maintenance, you'll find that not too many shops really cater to women on their level. Done right, marketing to women can create a huge opportunity for auto repair shops, as 85% of people bringing in their vehicles to be serviced is women. Here are 4 strategies auto shop owners can use to better market to women:
1. Promote transparency
Transparency is very important and can make the difference in attracting and deterring women in your business. It helps auto shop owners establish trust with this demographic, which is a key factor in purchasing decisions. To incorporate transparency into your marketing strategy, consider advertising prices for services, outlining expectations or even offering a free consultation to review the required services and costs. Being open in your marketing can go a long way toward building a strong relationship with the customer.
2. Use the right marketing channels
The best way to market to a particular demographic is to meet them in their space. For example, 73% of women use social media networks on a consistent basis; therefore, make sure your auto shop as a strong social media presence. Radio can be another effective way to reach women. Zimmer's Kissin 92.5 has 84,000 weekly listeners, with 58% of those being women. That means utilizing the power of social media, radio stations and other channels with a large female audience is part of the keys to marketing success.
3. Offer education
Women want to learn, and you can give them an opportunity to gain a better understanding of car maintenance and your services. Beyond the standard consultation to explain car maintenance, you may want to take things a bit further. Teaching them the importance of checking fluids, changing air filters or following a maintenance schedule can help foster trust and build customer loyalty.
To educate potential female customers, consider creating video tutorials or running digital and radio ads that provide these tips and spark discussions about car maintenance and care. Another idea is to offer in-shop workshops, where women can come in and get an up-close look at you, your shop and your services.
4. Showcase your shop environment
Let's face it – women typically have different standards than men, especially when it comes to presentation. Women want to be in an environment that is clean and comfortable, especially if they have to wait for a few hours. Sharing photos of the inside of the shop and lobby will help, along with promoting the amenities you offer in your advertisements. Do you have free Wi-Fi? Free coffee? All of these can help attract and engage potential customers – namely, women.
Marketing to women is important for auto repair shops. With the large percentage of women who frequent auto repair shops, investing in the right marketing strategy can quickly increase ROI, foster trust and build loyalty. There is a lot of value in getting women to become customers, as they can refer their friends, recommend your services on social media and much more. These marketing strategies can help you reach this audience and tap into the buying power and influence they hold in the market.