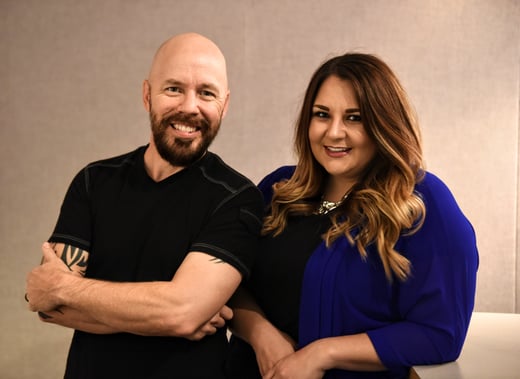 Since 2012, Randy Brooks and Kaylee Cole have been waking up KIX listeners with lively interviews, contests, phone calls, crazy songs, and other shenanigans. Zimmer is proud to announce that the entertaining duo beat out hundreds of other personalities in the state of Missouri to take home a 2018 MBA Award for best medium market radio air talent.
Join us in congratulating the hosts of Morning KIX! Read on to learn more about Randy and Kaylee, and what this award means to them:
How long have you been in radio…?
[Randy] Next year will be 30 years… Holy cow, is that right?
[Kaylee] I have been in radio for 7 years and ALL 7 have been with Zimmer Radio!
Why did you get into radio / this business?
[Randy] To be honest, I never intended to have a career in radio. It was something that I recognized I could do, and I thought I could do well, after I first saw Good Morning Vietnam with Robin Williams. I was looking for work while in college, and didn't know what to do. I saw that movie and thought, "I bet I could do that."
[Kaylee] I started as a part-time on-air personality in June of 2011 on a whim. I was told that Zimmer Radio was hiring, so I applied. I was going to school at MSSU and was graduating the following spring with a Psychology Degree and thought that radio would be fun to try. After being part-time for about a year, I had the opportunity to apply/audition for the morning show slot and was told that I didn't have enough experience. After some negotiating, I was given a two-week audition run (Randy likes to call it my "Morning KIX Boot Camp"). After that I was offered the job, jumped in head first, and I haven't looked back.
What does this award mean to you?
[Randy] There were over 800 entries for this year's awards. To be recognized in the midst of all of that very valid competition means a lot. It even makes me reassess my own opinion of myself.
[Kaylee] Honestly, I am shocked!! I NEVER would've thought that Randy and I would've been selected for this award. I mean out of EVERY PERSONALITY in the State of Missouri!?? WHAT?? I am so honored and humbled that the Missouri Broadcasters Association Board chose us!
What do listeners mean to you? What's your favorite part about your job?
[Randy] Listeners ARE the favorite part of my job! They don't realize it, but they are my show. I'm just the facilitator; they come up with all of the content. I don't think they realize that I'm getting them to do all the work for me.
[Kaylee] Our listeners mean EVERYTHING to me. Without them and their support of our show, Randy and I, we wouldn't be anything. They are seriously the best part of my job and getting to interact with them every morning and seeing them at KIX events makes my job worth it!
If businesses could know one thing about radio, what would you want it to be?
[Randy] That, unlike other media sources, we have the ability to engage the mind. Think about it; when you watch tv, or see a billboard, or even go to a website, it is a consumptive activity. When someone listens to the radio however, it requires mental visualization. It is an active participation when you listen to a show like ours. It can be a tremendously more meaningful process because of that. Now, which one would you want your message on?
[Kaylee] It is worth it and you get what you pay for. If you were handed two gold bars and one of those gold bars turned out to be fools gold, wouldn't you only want the real one? You would only want what is truly worth it and want the one that is real. Zimmer Radio continues to grow and continues to prove to its advertisers that we are there to help their business grow, too!
Want to Advertise with KIX?
Click here to learn more about advertising opportunities with the 4 States #1 for Country.