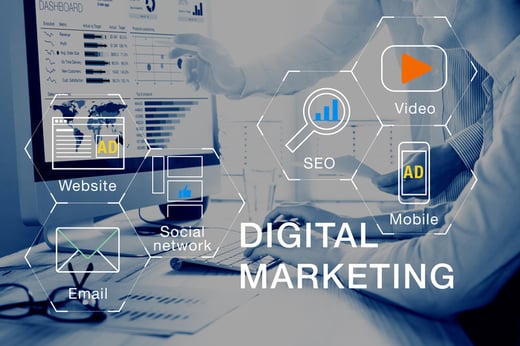 There are seemingly infinite digital marketing tactics available, so it can get confusing when it's time to decide which ones are best for your business. However, reading about each and every one would take a while, and when it's time to run promotions, it's important to get moving instead of spending countless hours on research. Yet, with over 4 billion internet users worldwide, you can't afford not to add digital solutions to your marketing toolkit.
To make things easier for you, we have looked at all of the options and condensed them down to the three that will work for any business. With these, you can expand your reach, attract new customers, and drive more business.
1. Social Media Marketing
Did you know that 77% of U.S. Americans have a social media profile? When you post from your company account, you reach those who are following you. But if they share your posts or retweet your Tweets, that reach expands greatly – allowing you to reach their followers, as well. That gives you a huge amount of potential coverage and engagement.
For success in this arena, it's important to know which platform your target audience usually uses and deliver quality, consistent content through those channels. There can be major differences between the audiences on Twitter, Facebook, Instagram, and the others.
Done right, social media marketing is a very effective way to increase awareness of your business. In fact, 80% of those who do it believe that it has increased customer traffic, according to a survey by HubSpot.
2. Digital Advertising
This takes many forms, from short textual blurbs to animated graphics. Ads appear on all kinds of websites, from social media and search engines to small content sites. Businesses can get the most out of digital ads by delivering relevant, personalized ads and running retargeting campaigns.
Retargeting is a form of advertising that uses tracking to show ads only to those who have visited your site or have otherwise shown an interest in your company or its category. When this is used, effectiveness soars. People who are exposed to retargeting ads are 70% more likely to convert when they return to your site, according to Small Biz Trends. Exposure to these ads also leads to a 1,046% increase in branded searches, showing that they cause people to remember your brand and seek it out. Furthermore, retargeted ads also get 10 times the clicks as non-retargeted ones.
One key thing to do with digital advertising is split testing. Always run tests between graphics, ad copy versions, and other elements to ensure that the most effective ones are used for your campaigns.
3. Search Engine Optimization (SEO)
SEO will be a top marketing method as long as organic search is still a thing. It can take time and effort to get to the top of the search results, but once there, it can yield continuous results for your business. The key to SEO is a good understanding of Google's algorithms and dedicating time to make sure your website is optimized to SEO best practices.
Some factors that affect SEO include technical setup, content and internal and external links. Optimizing these areas can increase your visibility in search engines and lead to increased traffic, engagement and even sales for your business.
These three digital solutions are all effective ways to build brand awareness and promote your products or services. Also, combining these tactics is a great way to achieve your marketing goals, as one solution complements the others. It also gives you more opportunities to get in front of your audience and drive customer action. And with these solutions, you'll enjoy greater business stability as well as a higher chance of a successful campaign.