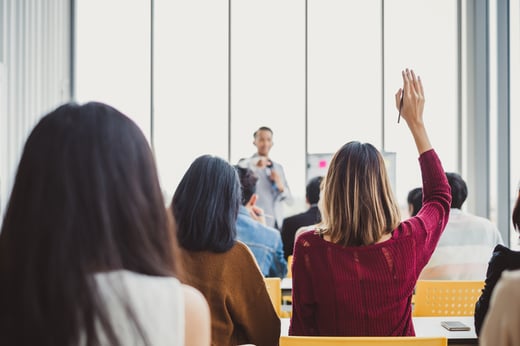 Great branding is key in attracting clients, developing brand equity and fostering top-of-mind awareness. For small business owners, branding can be one of their biggest challenges. Attending a BrandsFormation workshop, however, can help businesses develop their brand and discover what sets them apart from the competition.
What is BrandsFormation?
BrandsFormation is a 4-step system created to get measurable advertising results for local businesses. It's designed to teach businesses how to create an effective strategy that strengthens brand recall and loyalty among their target audience. Ultimately, it helps them discover their "difference maker" and how to use it to attract - and convert - customers.
Here are 4 reasons why the BrandsFormation workshop is different from other branding workshops:
1. Value
Attendees receive a ton of information and value throughout the workshop. The best part? Registration is FREE. In addition to learning about the BrandsFormation system (which we'll discuss later), the workshop also covers key supporting points, including:
Proven lessons for growing your business through storytelling

The 3 Fs of storytelling: Fit, Feel, Faithful

How to take advantage of social media

Getting the ROI you need from your advertising budget

The best way to gain mental real estate from your target consumers

Proven marketing strategies
From past BrandsFormation workshops, we've learned that these topics are of high interest to business owners. And attendees can immediately apply the knowledge they gain to their business to begin seeing results.
2. The Host
Chuck Mefford is the creator of the BrandsFormation system, and is a well-known business strategist, author and consultant. He's worked with Fortune 500 companies, like Pizza Hut, Budweiser and John Deere, as well as small businesses all over the world. He has distilled his knowledge and years of experience into this system to help business owners and marketers grow their brand. He's now written his third book: Tickle the Toes. Touch the Heart. Change the Mind.
3. Proven Method
The BrandsFormation is a 4-step system that goes beyond building a brand, utilizing the following:
Strategy: Creating a plan that implements a number of elements to help gain traction, visibility and brand equity with the ultimate goal of standing out among your competitors.

Strategy-based messaging: No strategy can work without effective messaging to reach your target audience and tell the stories that make the difference. Every word and campaign must be strategic in where and how you deliver your messages.

Consistency: Once you have the strategy and messaging in place, you must practice consistency through all your selected channels to maintain top-of-mind awareness.

Dominant frequency: Your goal is to deliver your message enough to dominate the market and stay there. Dominant frequency helps you do that.
At Zimmer, we use this system to help our advertising partners understand the path to revenue growth for their business through branding. It's also the basis of our 21/52 advertising plan, which helps local businesses increase awareness by achieving consistency and the minimum frequency of 3.
4. Results
To put it simply: BrandsFormation works! The proven system has been used by hundreds of local businesses, transforming them into household names in their local communities and helping them achieve measurable advertising results. See what past attendee Tony Fast, of BIM Consulting Group, had to say about his experience.
Creating real messages that resonate with your audience is key in building an impactful brand. Small businesses must learn how to navigate this process and stand out among their competitors. Stay tuned for upcoming BrandsFormation workshops to tap into the value, methods and results that you can discover to enhance your business and build your brand.