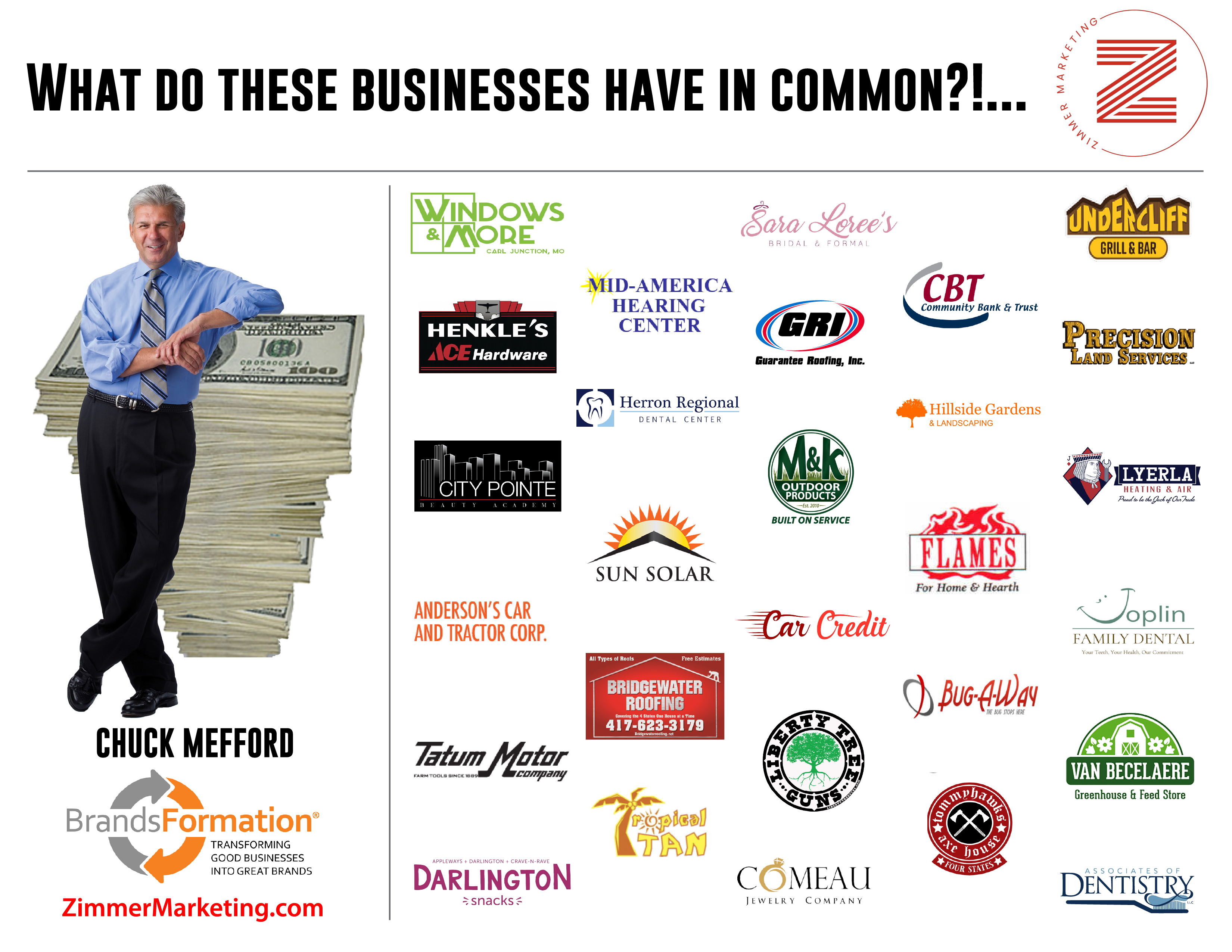 It's back! Zimmer Marketing will once again be hosting BrandKamp at 11:30 a.m. on April 5, 2022, at the Joplin Holiday Inn. If you're a local business owner in the four states, we can't emphasize enough why you should attend this free event!
What is BrandKamp?
BrandKamp is a free event that anyone can attend! During BrandKamp, marketing genius Chuck Mefford will offer no string attached advice for marketing your business from his BrandFormation system. Take advantage of Chuck's expertise in this friendly, entertaining, and absolutely pressure-free environment!
What is BrandsFormation?
Dozens of Four States businesses are currently utilizing this approach. BrandsFormation is a system that takes the effective marketing strategies large corporations use and makes them accessible to local companies with smaller budgets. In a world where large companies are increasingly consolidating market share and driving out competition, the branding process laid out in BrandsFormation gives smaller businesses the blueprint for fighting back. The ticket to success is to create brand messaging based on the genuine strengths of your company. When you implement BrandsFormation, you set your business on a growth trajectory to dominate mental real estate in the four states!
What You'll Learn at BrandKamp Spring 2022
1. How To Create Effective Ads
Chuck will teach you how to create effective ads that own mental real estate in the minds of your customers. With his years of experience helping small, local brands compete with large national businesses, Chuck will show you how to effectively tell your story in a way that connects with people. Learn how to reach the heart and not just peoples' heads.
2. Four Steps to Develop Your Brand
At BrandKamp Spring 2022, Chuck will teach you his four steps to developing your brand. Branding is one of the most important things a local business can do to ensure its bright future. Branding allows your customers to easily recognize your company and know what you do.
3. How to Uncover Your Difference Maker
It's essential that on your road to small business greatness, you identify your difference-maker. Chuck will teach you how to get past the usual lines like "we have the lowest prices and best service" and find the truly unique aspects of your company that will resonate with your customers.
4. Actionable tips to be the business people think of first when they need what you offer
The last thing Chuck will teach during BrandKamp Spring 2022 is some of his top tips for being at the top of peoples' minds. If you run a local plumbing business, you need to be the first name people think of when that pipe springs a leak. The good news is that there are proven ways to be the first brand people think about when they need your service.
Who is Chuck Mefford?
Chuck Mefford is a marketing expert and business strategist. His marketing firm has helped over 1,500 businesses stop wasting millions of dollars in advertising. Each year, he travels the country helping small businesses become powerful local brands, dominating their industries in the region they operate in. Mefford has written three books, including BrandsFormation.

Chuck will also be meeting with businesses after the event for one-on-one strategy sessions. These sessions are free to a select number of attendees and will focus exclusively on how to brand your business.