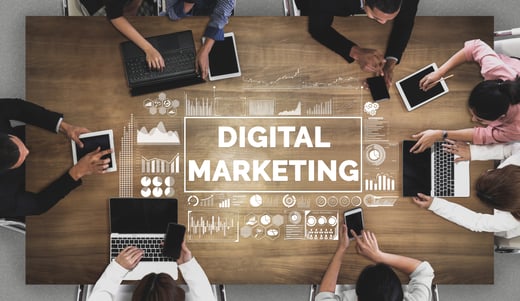 It's no secret that digital marketing continues to gain market share, especially as new, data-driven methods of bringing traffic to your website are developed all the time.
It's expected that digital marketing will represent $146 billion of spending by 2023, according to the Forrester Report, "The US Digital Marketing Forecast, 2018 to 2023." While this represents a 9% compound annual growth rate, there will be shifts, for instance, from typed search ad spend to marketing formats that cater to voice-assisted search using digital assistants like Alexa and Google Home.
The continuous growth, as well as a temptation to work with the most novel types of advertising, may make it seem wise to pour one's whole budget into digital marketing. This may be compounded in a time of crisis.
However, digital marketing doesn't reach everyone or fit every product and service marketing style. Traditional marketing still has wider reach and is part of a mix of media that allows you to cross a variety of target customer segments.
Digital marketing, in particular, touts its ability to take advantage of impulse purchases, and since the start of COVID-19, many prospects are thinking through their purchases for longer. It's worth keeping a diverse mix of marketing strategies.
Understanding the Marketing Options At Your Disposal
Marketing digitally makes it simple to direct a viewer from the advertisement directly to a digital sales platform, while most traditional advertising requires viewers or listeners to take an additional step by, for instance, visiting a store or typing in the web address themselves.
Not only have the digital platforms gained a marked advantage for many e-commerce formats, but e-commerce itself is also expanding. With growing consumer confidence in online retail, you can find people making large purchases sight-unseen through a website, including goods like tractors.
Digital marketing does come with some negatives though. Unless you have a very large ad budget, broad reach is very difficult with digital advertising. Furthermore, frequency is a necessary part of advertising success, with your ads needing to reach a consumer at least 3 times in a given week to make an impact. With a limited budget, digital advertising reaching a sufficient frequency can be difficult to achieve. Another downfall of digital advertising, is that ads may go unseen or may simply be ignored. Some users block certain ads with ad blockers as well.
With that said, some of the advantages of digital marketing have taken some of the "real estate" that was once held by traditional marketing. It has also clarified some of the market segments where digital marketing doesn't make as much of an impact. After all, as the song goes, "Video killed the radio star," but the truth is that radio survived the arrival of video, and both have survived the arrival of the Internet.
Make your choices for your marketing mix based on the actual advantages of the kinds of impacts you want to have. After all, digital marketing makes it possible to retarget customers across platforms, and it offers serious potential through mobile conquesting using location data and other cell phone metrics.
However, traditional marketing is still strongest among demographics that listen to the radio often and watch television for their primary engagement with the world. The Internet is undoubtedly popular, but there are segments of the population that are much easier to reach via radio and television, not to mention the fact that radio for example reaches 93% of the US population every week.
When brick-and-mortar is your business, without an e-commerce component, you'll often find that radio boosts in-store traffic very well, sticking with customers for a long time and offering you much more total mental attention than a quick glance while scrolling online.
Many radio advertising structures dovetail well with e-commerce, such as offering a special discount code if you sign up through a personalized landing page. Radio stations are also great at gathering listener data, offering you insight into which target demographics you're reaching that might not spend a lot of time with search engines.
Radio is an excellent example of how many advertising venues are here to stay, rather than being taken over by digital marketing. If radio was going to succumb to the pressures of the 'new and now' methods of advertising, it would have happened already.
Given that a diversity of venues will continue to survive and be popular across different parts of your potential client base, it makes sense to keep both traditional advertising and digital advertising in the mix, preferably in tandem when possible!
Combining your traditional and digital approaches into a cohesive marketing strategy gives you the opportunity to increase sales across e-commerce and brick-and-mortar, build brand recognition across platforms, and ultimately build the brand you want to be recognized for no matter which demographic you are reaching.
Key Takeaways: Casting a Wide Net Gives You Valuable Information
If anything, the kinds of advertising that survived the growth of the advantages of digital marketing are the ones with the strongest ROI. For audiences that aren't focused on digital technology, radio advertising remains highly effective.
The reach of radio is still enviably high, and it pairs well with a digital strategy, so we see great potential in continuing to widen your marketing funnel through a combination strategy. Pivoting to an all-digital strategy misses out on some major advantages of the high reach of radio advertising, which has stood the tests of time.