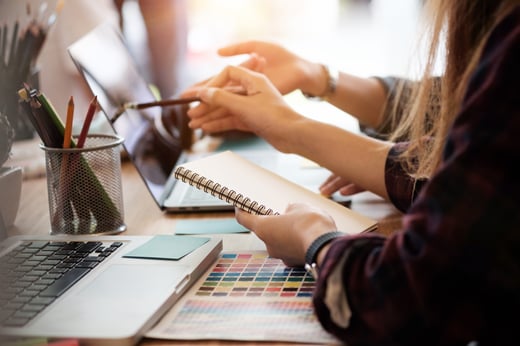 There are many reasons why you need to have successful advertising campaigns. A successful campaign can help you cut through the "noise." Plus, it can help you achieve your marketing goals while maximizing your advertising budget.
However, it can be challenging at times to distinguish a successful campaign from one that is less-than-stellar. There are several factors that make a campaign (both radio and digital campaigns) successful and we've broken it down into five simple building blocks. These can be extremely useful when developing and assessing your advertising campaigns.
1. Strong Branding
Your brand is one of your most valuable assets, and strong branding is the cornerstone of every good advertising campaign. It is more than just your name, your logo and a graphic or two. In fact, your brand can increase the value of what you sell and your business as a whole. The key is to include unique brand elements - like custom messaging, a jingle and your brand colors - and keep them consistent across all advertising channels. If you don't get this right, it can lead to a loss of trust and even counteract the message you're trying to send altogether!
2. Optimal Frequency
One of the key elements of advertising that many marketers fail to consider is frequency - or the number of times one person sees your ad. While there are many opinions on the right amount of frequency, finding a good balance can help drive brand awareness and recall, which can lead to increased conversions and customer retention. At Zimmer, we recommend the 21/52 advertising plan, which airs your commercial on the radio a minimum of 21 times every week of the year to achieve the coveted frequency of 3.
3. Compelling CTA
For the highest success rate in advertising, you need a compelling call to action (CTA). One of the main goals of advertising - regardless of your ad and how you choose to deliver it - is for the customer to take a desired action. Whether your CTA is delivered over the airwaves or online, it should entice your customers to take action right away with words like "visit our website," "call us today," "stop in our showroom" and other actionable phrases. Equally important, make sure the CTA is easy to remember by using 1-800 numbers, short URLs or clear directions.
4. Engaging Creative
For a successful advertising campaign, your creative should grab your audience's attention and keep them engaged long enough to retain your message and complete an action. Depending on several factors - including the advertising channel, your industry and your audience - your creative and message may be quite varied. For great radio creative, for example, you may consider leveraging radio endorsements, live broadcasts and even jingles. Spend some time and thought putting your creative together for the best chance of impact.
5. Positive ROI
When done right, your advertising campaign should generate profit and bring in more revenue than the advertising costs. When you have a positive return on investment (ROI), you'll also have more marketing funds to invest in future successful advertising campaigns. Positive ROI on advertising is the best way to see your business grow.
It is impossible to overstate the value of successful advertising campaigns for businesses of all types. We encourage you to ensure your current and future campaigns include these components in order to see improved results. In doing this, you'll understand the important role of both radio and digital advertising campaigns in the continued growth and success of your business.