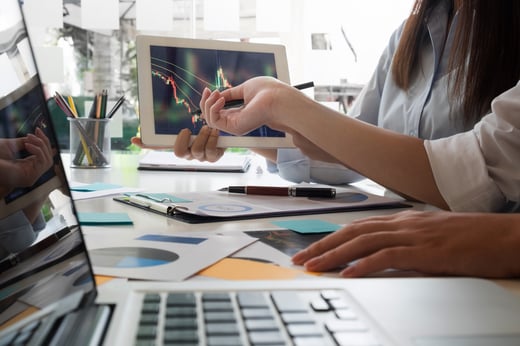 Not all advertising is created equal. The right placement is crucial, and many marketers purchase media real estate in order to find the best venues for ad placement. This is called media buying, and the goal is to get your ad in front of your target audience during optimum times.
Whether you're looking to place a radio ad in a prime time slot or an online banner ad on a high-traffic website, media buying is key to maximizing your ad spend. However, before you begin the media buying process, there are five important components to consider.
1. Market Research
Conducting market research is essential to effective media buying. It helps identify your target market to create relevant ads that your target audience will engage with. It also helps you determine where and when to place your ads to ensure they will see your messages. This process includes working with a media planner that understands your vision, key campaign goals and objectives, while also analyzing your market insights and assessing the competition.
2. Networking
Airtime is limited, and it's important to know the right people in order to get the optimal spaces. This helps get you in the door and increase the chances that you'll get the desired ad placement. Media buyers must be able to develop and nurture relationships with key channel owners to make that happen.
With Zimmer as your media partner, for example, you can have access to six local radio stations, reaching 190,000 different consumers each week. This allows you to easily find prime spots on the most-listened-to stations in the Joplin, MO, area.
3. Price and Negotiation
Media buy prices vary based on channel, spot and airtime. To get the best value or deal, media buyers should be able to negotiate fair prices for those prime media slots and find additional deals or extra incentives for their clients.
4. Media Objectives
It's no secret you need the right channels to reach the right audience. In effective media buying, this is key. Media buyers are tasked with determining whether it would be best to use traditional, digital or a combination of both types of platforms. These can include radio, digital advertising, video, and social media. The best media planners will create the perfect media mix to reach your preferred target audiences across all media channels.
5. Innovation
The advertising landscape is constantly changing, so media buyers must keep up with media trends, new platforms and their target markets to deliver the best results. Using this ongoing knowledge, they can provide the best recommendations to you – the client.
Media buying plays a major role in getting your products and services out to the masses. Marketers who have effective media buying skills can add value to any brand when developing their advertising needs.