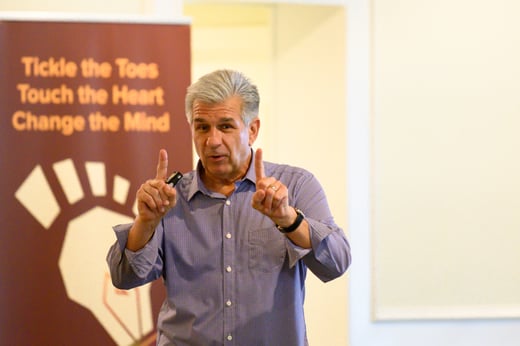 Another BrandsFormation is in the books, with local businesses now better equipped to foster successful brands and achieve their marketing objectives.
Numerous business owners from Joplin, Missouri, and the surrounding Four State area attended the branding workshop, held in April, to learn about elevating their brand and to hear from branding expert Chuck Mefford. He's the creator of BrandsFormation and author of the recently published book, "Tickle the Toes, Touch the Heart, Change the Mind," which teaches the power of storytelling in advertising.
Attendees walked away with valuable knowledge about branding their business, capturing their audience's attention, and standing apart from the competition. Those who missed the Spring 2019 BrandsFormation are in luck, as the workshop will be offered again this fall.
Spring 2019 BrandsFormation workshop
Zimmer has now hosted several BrandsFormation events to help Four-State businesses learn how to develop their brand through Mefford's revolutionary workshop. After putting on a BrandsFormation workshop last spring, the group received positive feedback from attendees that indicated the information was valuable and desired by businesses in the community. Since then, we have brought Mefford back for several follow-up events to make his message more accessible to local businesses.
During the workshop, attendees learned about a variety of topics including:
Utilizing social media effectively
Effective story-telling
Receiving the necessary ROI from an advertising budget
How to inhabit mental real estate of potential clients
Building businesses and brands with proven marketing strategies
The centerpiece of the workshop was Mefford himself, who spoke about BrandsFormation, his new book, and how businesses can apply the system to their advertising approach to increase their ROI for marketing dollars.
What is BrandsFormation?
Local brands are constantly competing for their share of mental real estate with the finite number of consumers in a given area. With new businesses cropping up in the market on a regular basis, developing a brand that stands out from the crowd is increasingly challenging yet necessary.
Mefford breaks down his simple yet profound BrandsFormation system into the following four steps:
Strategy. Businesses have to identify what sets them apart from their competitors, or their differentiating idea. This becomes the foundation of their marketing strategy and guides who they are trying to reach and how they will do it.
Strategy-based Message. The next step deals with how businesses take their strategy to the marketplace. This includes embracing a message that will resonate with their audience and bolster their brand image. Mefford uses the analogy of brick and mortar, describing a business' storytelling as the bricks and their brand essence, appearance and unchanging elements as the mortar.
Consistency. Once businesses have adopted a strategy and a concise, compelling message, they have to expose prospective customers to that message consistently. As Mefford states, "Whatever group of people you talk to, you do it in a very long-term fashion."
Unlike many marketing campaigns, which are focused on a "buy now" message, BrandsFormation is about explaining why customers should consider a particular business and educating buyers so "they like you, feel good about you, and think about you long before they ever need you," he said.
Dominant Frequency. A message needs to be spread not only consistently, but also frequently to an organization's audience. After sharing a message frequently for six months to a year, businesses should see measurable results from their advertising efforts.
Applying the BrandsFormation System
Zimmer not only uses the four-step BrandsFormation system, but also teaches it to clients so they can boost their marketing results and build their brand with a 21 52 Advertising Plan. Zimmer's marketing consultants and Creative Services Department walk clients through each step of the program, starting with developing an effective strategy and strategy-based message.
Zimmer's expertise lies in creating a compelling narrative that resonates with audiences. From there, the message must be spread consistently and frequently. As research shows, consumers must be exposed to an advertisement at least three times per week before it has an effective impact.
As the name applies, Zimmer's 21 52 Plan disseminates your message on the radio 21 times per week for 52 weeks of the year. By dominating a specific audience through one channel for an extended period of time – rather than trying to spread a limited advertising budget thinly across multiple channels – businesses can acquire the mental real estate of potential clients and make a lasting impression.
Fall 2019 BrandsFormation workshop
Attendees will have another opportunity to hear from Mefford during another branding workshop to be held this fall. During the conference, attendees can expect to learn about:
Creating effective ads that yield substantial results through compelling storytelling
Developing a brand for business and dominating mental real estate
Uncovering an organization's difference-maker or differentiating idea
Action-based tips for businesses to surface in people's minds when they need what those businesses have to offer
There is no cost to attend, but tickets should be requested in advance. Fill out a form and check workshop seating availability online.
Don't Miss our Special Guest, Bill Turpen...
This BrandsFormation, Chuck will be joined by jingle, creative expert, and author Bill Turpen, Bill has more than 25 years of jingle experience during which he has produced some of the biggest jingles in the country including Folgers Coffee, Famous Dave's Barbecue, Cold Stone Creamery and more! With over 25 years of experience. Bill will be discussing the importance of branding, repetition and memory, and how to create advertisements that lead to top-of-mind-awareness.
Transforming Your Brand
Customers are finite and they only have so much capacity for thinking about various brands. Your business can benefit from adopting a long-term strategy that capitalizes on consistent branding and powerful storytelling, topics that will be covered again at the BrandsFormation workshop this fall. Sign up now to receive updates about the workshop and reserve your spot.