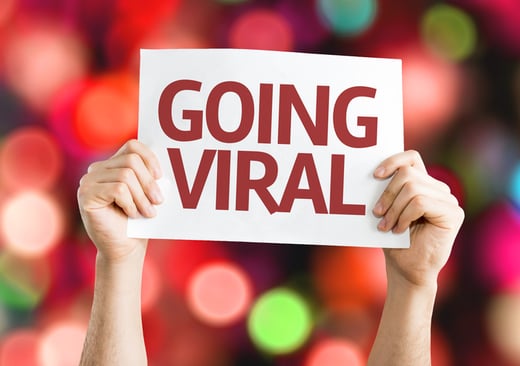 Many businesses put in a lot of time and effort to have their brand go viral. It increases awareness, traffic, memorability, and positive engagement. And while there's no magic formula for "going viral," every brand hopes that their content will be seen and shared by the right people. However, once you do achieve viral status, it's important to have a strategy in place to capitalize on the momentum you've built. That's where digital brand management comes in.
What to Do After Your Brand Goes Viral
Good digital brand management will help you sustain traffic, engagement and other positive results long after you've gone viral. Here are some of the goals you should set for your digital branding:
Create a Consistent Branding Experience
Once people find out about your brand via the viral content, they will be looking for more information through a variety of media. Make sure that your branding is consistent across all channels: social media, your website, digital advertising, print, radio and all other mediums. According to Inc. Magazine, presenting your brand consistently can increase your average revenue by 23%.
Consistent branding also paves the way for even more exposure. Companies that achieve this are 3-4 times more likely to gain excellent visibility than those whose branding is inconsistent.
Connect with Individuals Through a Variety of Digital Channels
Digital channels allow you to stay connected with those who engaged with your viral content and increase your chances of conversion. Email marketing, social media, digital advertising and other such solutions allow you to reach these people easily and within the medium they prefer.
One of the most popular types of advertising for this situation is retargeting. With retargeting, you can have your ads shown only to those who have already visited your website. This allows you to capitalize on their initial interest to re-engage, and ultimately convert, viral visitors.
Provide an Optimized Website Experience
When your brand goes viral, it will result in a flood of new traffic to your site. Be sure you're ready with a professional, easy-to-navigate website. Keep in mind that many people will be visiting from their mobile devices, so be sure that your site is mobile responsive. A "responsive" design automatically adjusts to the device each visitor uses to provide a great site experience every time.
Don't stop with the overall appearance of the site. Create compelling landing pages with strong calls to action. Make it easy to find the "Buy" button, and make sure the purchasing process is intuitive. On the backend, have systems in place to track visitor information, their pathways through your site, and other such statistical data.
Note that 98% of users say that a positive user experience is the most important factor when they visit sites. Furthermore, a well-designed interface can increase website conversion rates by 200-400%. It's definitely worth updating your website design if needed – and to do so before you go viral.
Going viral is a wonderful thing for a business. It brings an influx of people to your website, gets your brand known by a large number of new potential customers, and makes your brand or products memorable to those who are exposed. Be sure that you are ready to capitalize on such an event by having a good digital brand management strategy in place ahead of time.