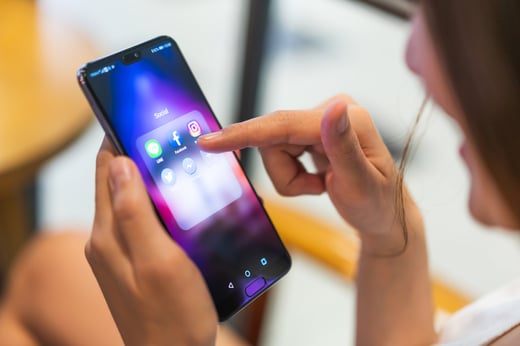 Most businesses do not believe they get a good ROI from using Facebook lead ads. 62% of businesses using paid ads on Facebook report it didn't work to their satisfaction.
Don't let that statistic fool you.
Advertising for small businesses on Facebook can be highly effective if it's the right type of business, and Facebook marketing is done correctly.
Facebook Marketing Conversion Rates
The average conversion rate for Facebook ads across all industries is 9.2%. That's higher than any other social media platform. Small businesses in the fitness, education, employment, healthcare, real estate, and B2B industries see the best conversion rates.
Despite the recent negative publicity about social media, Facebook is still growing in terms of users and advertisers. The social media platform boasts 2.4 billion users worldwide, and it's added users every quarter since it launched.
Advertising is accelerating as well. The number of advertisers on Facebook has doubled in the past 18 months. More than 2 million advertisers have started advertising in the last two years alone.
Is My Business Right for Facebook Ads?
To determine if your business is right for Facebook ads or paid promotion, you need to know your target persona, your customer acquisition cost (CAC), cost per lead (CPL), and customer lifetime value (CLV).
It only makes sense for your business to advertise on Facebook if:
Your customers are on Facebook
You have a deep understanding of your target customers habits and their behaviors
You can get your acquisition cost (CAC) lower than your average cost per lead (CPL).
Calculate your Customer Acquisition Costs by dividing the cost of your Facebook ads by the number of conversions.
Facebook Advertising Costs
How much you pay for Facebook ads changes based on your industry and the demand. Facebook operates on a bid system, so your ads are in competition with others for ad placements. Facebook will serve up the ads with the highest bids to maximize their revenue.
Competitive industries that advertise frequently on Facebook have higher costs. Average Cost Per Click (CPC) for Facebook ads can range from an average high of $3.77 to a low of 45 cents.
Consumer services, finance, and insurance categories cost more than $3 per click on average. Home improvement, employment, B2B, auto, and industrial service categories will range from $2.25 to $2.93. Apparel, retail, travel, and hospitality industries average less than a dollar.
Most of the small businesses that say their Facebook lead ads aren't working are handling their Facebook marketing themselves. If you aren't handling your own creative, bidding, and optimization strategies, you will also need to factor in the cost of using a digital advertising agency. If your Facebook lead ads aren't working, you're wasting your money. An agency can optimize your campaigns to make them effective.
How Paid Social Fits into A Marketing Strategy
Paid social media is about helping you find customers. That's different than paid search which is about helping customers find you when they're seeking information.
Using social in combination with retargeting ads can be a powerful way to move people along the buyers journey. Retargeting can result in a 147% increase in average conversion rates as part of an overall marketing strategy.
Businesses that are successful with Facebook ads find that supplementing their social media paid promotion with traditional advertising increases reach, frequency, and ROI. The combination can significantly increase brand awareness when Facebook ads are paired with high-reach channels like radio.
Should You Advertise on Facebook?
Whether Facebook advertising is right for you will depend on your industry, the demographics of your prospects, the margin you can make on the products you sell, and the effectiveness of your ads. Your CLV also figures prominently. Will customers buy just once, or can you expect to get repeat business?
If you aren't already receiving great results, a digital agency can help you decide whether Facebook advertising is right for you, or if another form of digital advertising is a better fit for your business.