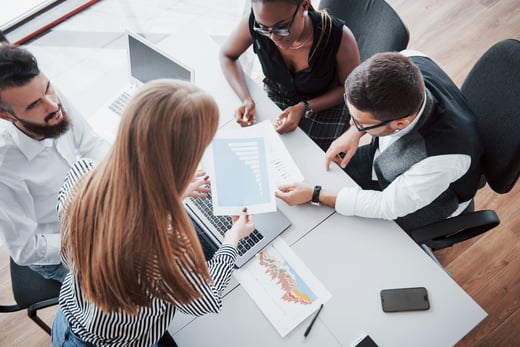 Choosing the right digital advertising agency to manage and execute your company's digital ad strategy is not a simple task. You must carefully consider each option to find a partner that can help you achieve your marketing goals. Hire an effective, skilled agency, and your marketing efforts will be successful, driving new customers to your company. Select an ineffective agency, and you will likely waste time, money, and effort on your digital marketing goals.
So how can you know if you've found a good one? Below are seven characteristics of the top, most effective digital advertising agencies.
1.Strategy-Driven
Digital marketing that works requires an effective strategy. The best digital advertising agencies will be adept at creating and implementing these strategies. This includes building a roadmap for campaigns with tactics, action items and deliverables. A skilled team can build a strategy that incorporates multiple channels and methods - including search engine optimization (SEO), retargeting and even native advertising - to create a well-rounded digital advertising plan.
2. Relevant Experience
The right partner will not only have digital marketing experience, but also experience in your particular industry or niche, with proven success from helping other companies reach similar goals. This type of relevant experience shows that the team knows what strategies work to reach your target audience.
3. Transparency and Accountability
No agency partner can be perfect, but you want one that is willing to be held accountable for mistakes. Also, you want them to be transparent as you develop goals and identify key performance indicators to track. When a marketing partner provides you with access to their analytics and reporting, you can trust that they are doing all they can to help you reach your goals.
4. Clear Communication
It's essential to partner with a digital advertising agency that is responsive and accessible when you have a question or concern. You also want them to be able to clearly communicate your brand, product or service, and values. When the agency is able to communicate well, you have a better understanding of what they are doing to help your brand and what you can expect the outcome to be.
5. Robust Tools
Knowledge is key, but the tools to implement that knowledge are equally important. Working with a partner who has top-quality tools at their disposal will help with everything from research and development to optimization and management of your campaigns. The tools combined with the agency's knowledge work together to your benefit.
6. Collaborative Mindset
You will hire an agency for their marketing expertise, but you are the expert on your company and what it provides customers. The best digital advertising agencies will work with you as a partner, feeling like a member of your team by delivering honest feedback, exploring new trends and opportunities, and educating you as to what they do. This level of collaboration gives you ownership of your work and ensures everyone is working together for the same ultimate goal of success.
7. Value
Ultimately, a great digital advertising agency is going to provide you something of measurable value. Instead of focusing on offering the cheapest prices, they are going to deliver the best possible value for your investment. Unfortunately, working with the lowest priced company may lead to poor quality, lack of services, ineffectiveness, poor communication and inadequate results.
You will likely make large investments in your marketing efforts. Hiring the right digital advertising agency for your business is essential to making the most out of those marketing dollars. Consider all seven of these factors in the search for the right agency partner. If you are looking for a team to partner with for your marketing goals, who will focus on value and strong communication, reach out to Zimmer. Learn more about Zimmer's digital advertising solutions today.