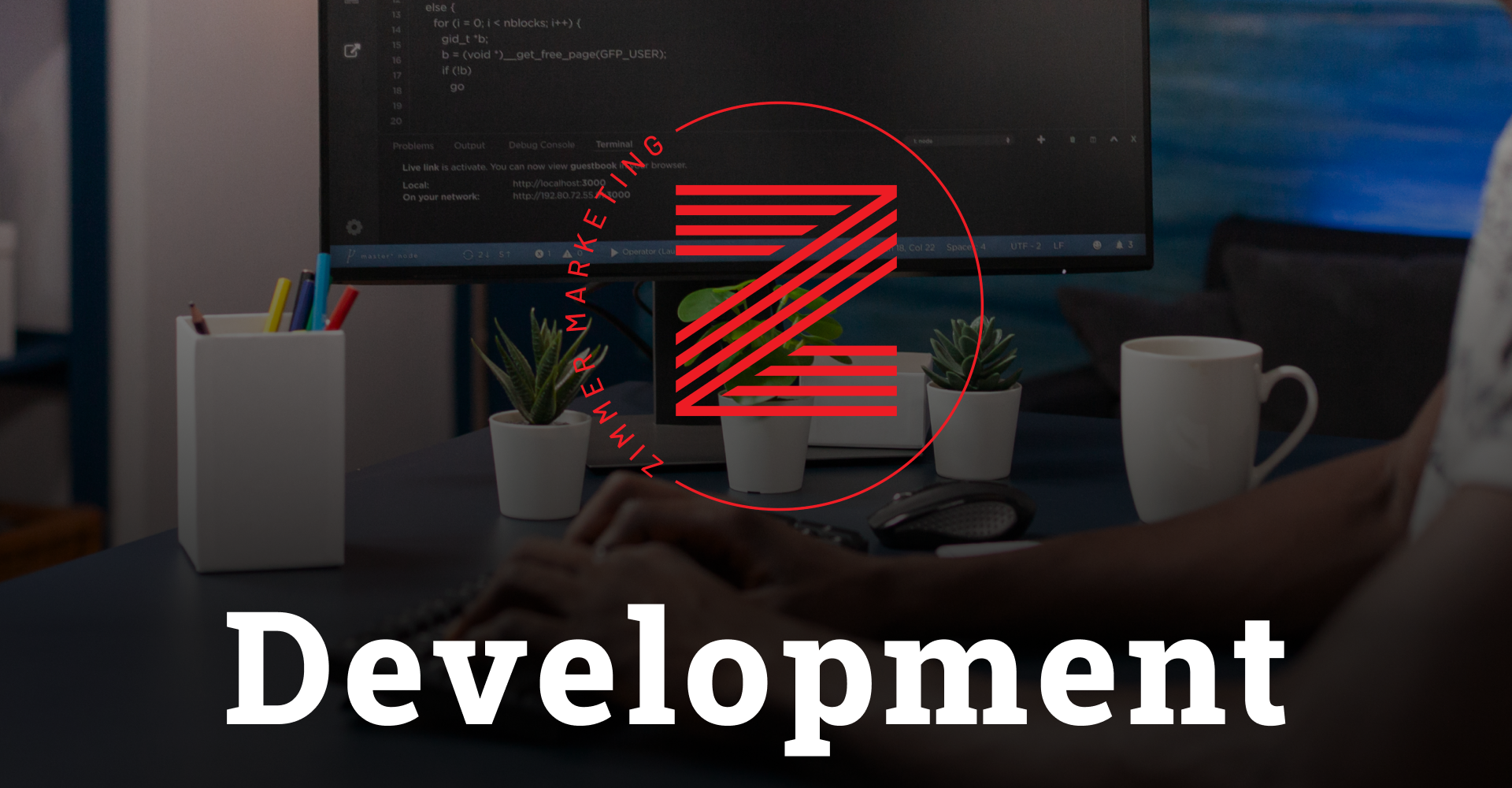 We've made it! If you've been following our current blogging series, you will have read about the first two phases of a web project: content creation and design. Now we've come to the development phase where everything comes together!
What to Expect During Web Development
Once the web page prototypes from the design phase have been reviewed and approved, a new website project moves to the Zimmer Marketing developers. Armed with these designs and content, our developers begin building your new WordPress website. Development is the culmination of all the efforts so far.

The development phase is the most technical and involves writing unique code for your website. Unencumbered by junk code that you would have with template-based drag and drop website editors, our developers build a site that is streamlined and fast. Everything will be integrated and made functional, from contact forms immediately sent to your email to the call button.
Efficient Time Use
Everything in Zimmer Marketing's web project system is designed to streamline progress. That's why we eschew time-consuming meetings, opting instead for a more nimble approach. We stay active and available in our project management software, where you can reach us, and we can reach you. For instance, suppose you change your business phone number during the development stage. You can get us the new information in just a couple of typed sentences, allowing us to make immediate changes.
New Website Launch
So far, you've been involved in every step of the web project, answering our questions and giving feedback on prototypes. But development is where you get to sit back and relax. Using all the copy and prototypes from the first two phases, our developers work to bring your website to life. Within several weeks of your web project entering development, you will receive a notification that your website is live at your registered domain name. Your patience has paid off, and you are the owner of a brand new business website!
Website Launch Is Only the Beginning
Your new website is never finished. Sure, we've worked it over with a fine-tooth comb before we sent it out into the world, but your website will always be evolving. Whether due to changes in your business or changes in the online world, your website needs to be flexible. That's why as part of our ongoing hosting on our private server, we reserve an hour each month for continuing web maintenance and updates!
Next Week...
As discussed in this blog, your website's launch is only the beginning. Next week we'll be taking a look at what comes next. Blogging is one of the most effective ways to make your new website take off and get traffic. Join us next week as we take an in-depth look into how your blog helps you win on the search results page!
Ready to improve your online presence? Start your web project today!