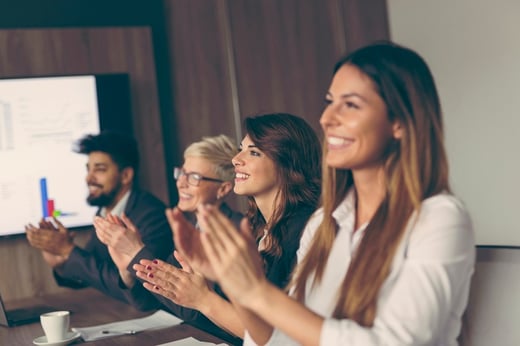 When it comes to four state area radio, there really is only one clear choice . . . and you don't have to take it from us! We love it when marketers from around the area share their success stories. It really reminds us why we do what we do every day -- to not only provide quality programming to our listeners but also to help area businesses reach their core audiences and business goals, too. See how the elements of radio advertising work together to supercharge the reach for our advertisers.
Exceptional Radio Talent
Coming up with creative and entertaining ideas to make the morning commute more pleasurable for area listeners takes a lot of energy -- and Randy Brooks and Kaylee Cole have been pulling it off with style since 2012. They recently received the prestigious 2018 MBA Award for Best Medium Market Radio Air Talent. Their commitment and professionalism are what has helped them continue to excel in a market crowded with incredible talent. There were over 800 entries for this award, making it truly impressive that they stood out from the rest. The duo likes to utilize active visualization and engage their audience in a meaningful way, part of what listeners so dedicated to coming back for more.
Success Stories
Hearing our advertisers are seeing real success with radio advertising is part of what makes the staff at Zimmer Radio so proud. Recently, we heard from several clients who couldn't wait to share their positive results:
Local Quiznos owner Tyler overcame some initial concerns with radio advertising and was delighted to see a serious boost in sales numbers since his partnership with Zimmer Radio began.

Allied Restaurant Supply saw a sales increase of over 20% since he began advertising with Zimmer Radio. See how owner

Dale Stroud

presents these unprecedented numbers.

Kitchenland's marketing team learned a great deal about advertising in general when they joined the BrandsFormation workshop. It's raised their profits and "makes people want and desire their products."
Listen to any of these full interviews on our customer success stories page online.
Radio Delivers Real Results for Four State Area Businesses
Changing your advertising model doesn't happen overnight, but when you see the stellar success that our brands experience when advertising on Zimmer Radio, you'll be ready to get started! Local four state area businesses are already seeing the changes in their business when they added radio to their advertising mix.
Are you ready to see how radio advertising can supercharge your business and bring in new prospects and customers? Join the fun with Zimmer Radio, and see how quality talent and a true focus on customer service will make a difference for you. You can read or listen to more of our success stories online or download our testimonials booklet -- including tips and best practices -- so you'll have the best possible result from your next radio campaign. Contact us today at 417-624-1025 or fill out our easy online contact form to receive a quick response.