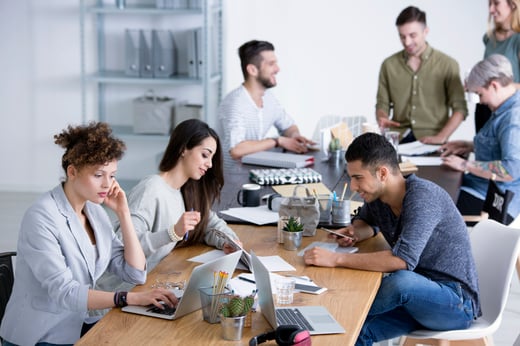 If your marketing plan doesn't seem to be working well, it may be time for outside help. Many businesses turn to outside marketing agencies to help build new marketing plans or update their existing ones. If you are looking for help, a full-service agency is a better choice over one that specializes in a particular channel or tactic. A full-service marketing agency can handle everything from digital marketing and content creation to website development and advertising. This ensures your marketing message is cohesive and avoids problems with mixed signals.
So what can you expect when you work with a full-service marketing agency? Here are some things that will likely happen.
1. Broader Skill Sets
Full-service marketing agencies employ many different industry experts. This ensures you get a full range of experience and a team of knowledge professionals working on your advertising efforts. Having access to a team that specializes in many different marketing disciplines will make your overall efforts more successful.
2. Fresh Perspectives
The marketing world is always in flux. When things change, your business has to keep pace or you will fall behind. Working with a full-service advertising agency ensures you always have a fresh perspective from someone who is in the know about the marketing world. Keep pace with current trends and tactics more effectively with the right partner.
3. Access to a Suite of Marketing Services
Not only does a full-service marketing agency offer a broad range of skill sets, but also a full suite of marketing services. With a large selection of complementary services available, the agency will help you better reach your marketing goals.
For example, as a full-service marketing agency, Zimmer not only offers radio advertising, but also branding, digital solutions, live endorsements, jingle creation, and much more.
4. Cohesive Strategy
You need a cohesive marketing strategy to ensure your target audience receives the same message across all channels. This is often known as creating an integrated marketing strategy. Whether your audience is hearing your radio ad, visiting your website, or seeing a print advertisement, they should see a consistent message. In addition, integrated marketing helps you tie these different marketing aspects together so they work with one another rather than against each other.
5. Scalability
Full-service marketing agencies are able to provide scalable marketing solutions. If you want to expand your efforts to promote a new product, for example, you can do so easily without changing your marketing vendor. Similarly, if you have a seasonal business, you can easily reduce your marketing in the off season, then increase it when your busy season starts.
6. Cost-Effective Solution
Working with a full-service marketing team will cost less than hiring an in-house team of marketing professionals to specialize in the various channels. Plus, you will often get better results because of the specialization of your marketing agency. This combination of cost savings and improved return on investment (ROI) makes it a more cost-effective solution.
7. Clear and Quantifiable Results
Finally, working with a full-service agency ensures you get results that are clear and easily measured. Agencies use analytics and regular reporting to show how well your marketing efforts are working, and this gives you the confidence to continue building an effective marketing strategy.
A full-service marketing agency will make your marketing efforts as effective as possible, with minimal stress and lower costs. As you consider your potential media partners, consider Zimmer and our full suite of services. For more information about working with Zimmer, check out Hey, I Just Heard You on the Radio!